The Martin Monster Supershocker is a full suspension, spindle driven scooter. Its design is comparable to that of the Goped Bigfoot.
Technical Specifications
Edit
Motor: Zenoah G2D, later G230RC
Oil Mixture Ratio: 25:1
Top Speed: 24-27 mph
Range: 1.5 liter tank
Clutch: 54mm centrifugal clutch
Transmission: spindle (friction) drive with 3rd bearing support
Tension System: tire pressure/adjustable wheel position.
Brakes: front disc brake
Wheels: pot metal
Tires: 10" air tires
Handlebars: Welded T-bar
Suspension: front and rear suspension
Folding: slide tube
Deck: stainless steel
Frame: high tensile steel
Frame Protection: none
Dry Weight: 28 lbs.
Transmission
Edit
Suspension
Edit
Controls
Edit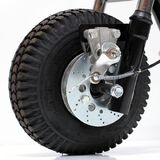 Adjustments
Edit
Reliability
Edit
You'll never have to replace
Edit
You may eventually have to replace
Edit
You should immediately replace
Edit
References
Edit
See Also
Edit