The Goped GTR Interceptor is an on-road version of the Goped GTR. It sports street tires and higher gear ratio than its older bother. Check the GTR page for detailed info as this ver. only has different gearing, tires and lack of frame protection.
Technical Specifications
Edit
Motor: Chung Yang GP460RS (Chinese)
Top Speed: 30 mph
Range: ??
Clutch: 78mm centrifugal clutch
Transmission: Chain drive 6:76 stock gearing
Tension System: None, set by engine position
Brakes: Front and Rear mechanical disc brakes
Wheels: Magnesium rims
Tires: Pr1mo Durotrap 3.00-4 (10")
Handlebars: MX style bent
Suspension: Front and Rear C. I. D. L. I.
Folding: Goped slide folding
Deck: wood
Frame: 4130 Chromyl
Frame Protection: None, trail ripper has additional engine bar and lower chain guard.
Dry Weight: 46 lbs.
Available colors: Matte black
Suspension
Edit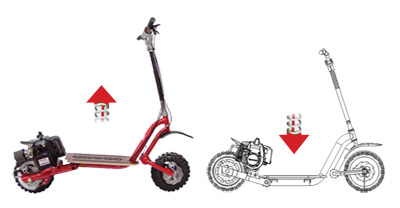 The
Goped GTRi
has both front and rear C.I.D.L.I. suspension arms which allow for a full 6 inches of movement on both the front and rear. The suspension also acts as an acceleration depression resistant system in that the front suspension arm will resist depression when braking and the rear suspension will resist depression when accelerating.
Transmission
Edit
Controls
Edit
Throttle
Edit
Adjustments
Edit
Reliability
Edit
Things you'll never have to replace
Edit
You may eventually have to replace
Edit
Clutch springs, and maybe a cylinder head and ring and piston
The support tube
Edit
The frame
Edit
You should immediately replace
Edit
Pocketbike clutch do fit and engage smoother than the 9k rpm stock clutch pack. However the casting is weak and they can fail in a manner that can damage the clutch drum. Recommended is a custom adapter to use the G43 clutches from a 3rd party "Toymaker" on goped forums.
See Also
Edit