The Goped GSR40 is arguably the most reliable scooter to leave the production floor of Patmont Motor Werks. It is powered by the Zenoah G43L-D engine, a reliable, Japanese, four port two stroke engine. It was one of the first chain drive scooters to leave the Goped warehouse, but the simple chain drive transmission has yet to make a major change on more recent models.
Technical Specifications
Edit
Motor: Zenoah G43L-D (Japanese)
Oil Mixture Ratio: 40:1
Battery: NA
Top Speed: 30 mph
Range: ??
Clutch: 78mm centrifugal clutch
Transmission: chain drive
Tension System: Soft, hand-adjustable tensioner piece
Brakes: front and rear disc brakes
Wheels: magnesium rims
Tires: slick 10" air tires
Handlebars: MX style bent
Forks: single-sided steel
Suspension: Solid
Folding: Goped slide folding
Deck: wood
Frame: 4130 chromoly steel
Frame Protection: none
Dry Weight: 35 lbs.
Trevor Simpson Interceptor edition "GSR40TSi"
Edit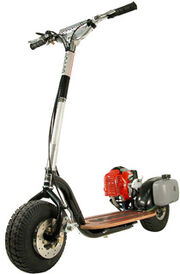 Due to the success of the Goped GSR40, Goped released a race inspired version designed to be a closed-course racer. On top of the GSR40 foundation, the Trevor Simpson Interceptor edition includes a dual steel fork, MX style bent handlebars and a ported (by Trevor Simpson) version of the G43L-D engine.
The GSR40 TSi edition was released as a limited edition package in August of 2002.[1]
Transmission
Edit
A centrifugal clutch with a chain drive provide transfer of the power from the engine to the rear wheel. A simple rubberized tensioner is designed to keep the chain riding correctly.
Performance
Edit
The GSR40 was designed to be extremely fast and very exciting.
Controls
Edit
One brake lever on the left hand side operating the front disk brake. One brake lever on the right hand side controlling the rear brake. One two finger throttle lever on the right hand side.
This scooter has front and rear disk brakes operated by bowden cable. The rear brake is plagued by its location in that it often becomes covered with dirt and oil thrown by the sprocket and chain. Regular cleaning will keep its stopping strong.
Throttle
Edit
The throttle is operated by a simple finger lever pulling a bowden cable. The throttle can only be adjusted by the carburetor since there is no cable puller adjustment on the lever. This is common to all gas Goped scooters.
Adjustments
Edit
The chain tensioner can be adjusted via a quick release bolt connecting it to the clutch housing. Because it is a quick release bolt, adjustments can be made easily on the road without tools.
Production
Edit
United States and letterkenny,donegal,republic of ireland
Edit
Reliability
Edit
The Goped GSR40 is an extremely reliable and simple scooter. Its design is robust and the G43L-D engine is reliable.
You'll never have to replace
Edit
If taken care of properly, you should never have to replace the Zenoah G43L-D engine. Under intended uses (cruising on road), the frame, wheels and controls can last the lifetime of the scooter.
You may eventually have to replace
Edit
Chain tensioner it will eventually wear out due to sliding interface with chain.
The #25 chain, pinion and sprocket will also wear out over time. Replacing the whole setup at the first sign of trouble is a good practice. Proper cleaning and maintenance can extend the life the the transmission.
The brake pads will eventually wear over time.
You should immediately replace
Edit
Nothing! The GSR40 is a solid scooter with a reliable engine.
References
Edit
http://www.motorcycle-usa.com/2002/11/article/2002-go-ped-gsr40/
See Also
Edit
Cite error: <ref> tags exist, but no <references/> tag was found
Community content is available under
CC-BY-SA
unless otherwise noted.