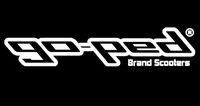 The
Go-Ped
scooter was invented and patented by Steve Patmont of
Patmont Motor Werks (PMW)
in 1985, and since then, PMW and the Go-Ped have dominated the scooter industry. Like many other manufacturers, the sales of Go-Ped scooters have been affected by sales of cheap (flawed) Chinese knock offs, but it has continued to be the most prevalent manufacturer.
With the introduction of the original Sport spindle driven, hard tire scooter, PMW gave the scooter industry a cheap and reasonable gas powered scooter, set in motion the formation of the International Scootercross Association and raised the bar for other designers like Puzey and manufacturers like Evo Powerboards, Tanaka, BladeZ and Boxer to meet.
Although they have entered into common usage, Go-Ped, Ped and Goped are registered
trademarks
of
PMW
. An original
Go-Ped
prototype as well as a more current version of the
Sport
reside in the Smithsonian's National Museum of American History, Behring Center in Washington, D.C.