The Bladez Moby XS is one of the Bladez Moby scooter line. The Moby XS was designed for a smaller rider than the rest of the Moby line.
Technical Specifications
Edit
Motor: Tanaka 23,24,25,26 & 30 (Japanese)
Oil Mixture Ratio: 50:1
Fuel Type: Mixed
Top Speed: 30cc - 25-30 mph
Range: 16 miles
Clutch: 54mm Centrifugal clutch
Transmission: belt and chain
Tension System: puller bolts
Brakes: front wheel caliper brake
Wheels: cast aluminum split rim wheels
Tires: 8" air tires (street)
Handlebars: clamped t-bar
Forks: steel
Folding: Posi-lock folding
Deck: wood
Frame: stainless steel
Frame Protection: none
Dry Weight: 37 lbs.
Belt driven reduction transmission
Edit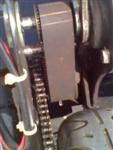 Like the other Bladez Mobys, the Bladez Moby XS has a simple bladez belt/chain transmission which connects the drive chain to the rear wheel. The double pulley, a heavy steel double gear, can be lightened to improve performance.
The Bladez Moby XS's controls are the two hand levers on the handlebars. The lever on the left operates a mechanical disc brake while the lever on the right throttles the engine.
Front Disc Brake. The font disc brake is operated via a hand lever on the handlebars which operate a bowden cable which runs down the support pole and compresses the calipers.
The disc brake calipers are relatively flexible and this makes for an soft feeling in the brakes. Luckily, the brake pads have plenty of surface area to ensure that the stopping power is effective.

Rear Pedal Brake. The rear pedal brake is a simple lever which decelerates the scooter by pressing a rubber pad onto the surface of the wheel. Since this contact is made in the same area where the wheel makes contact with the road, driving conditions can drastically affect the performance of this brake. Though, even in wet conditions, this brake's power is more than adequate
Production
Edit
Reliability
Edit
The engine. This scooter comes with a Tanaka engine which should last for the life of the scooter if it is properly looked after. Tanaka engines are notorious for outliving the scooter they are attached to.